Darkoath, el sentido de un nombre.
Hace casi tres años que el juego Silver Tower nos enseñó a un atractivo pero malvado aventurero llamado Hathrek, Darkoath Chieftain de los Gadalhor. En aquel momento no lo sabíamos, pero esos bárbaros adornados con cráneos de ave y hombreras con cara de demonio iban a traernos la versión moderna de los Chaos Thugs que habíamos conocido en los noventa.
Hasta la novela Labyrinth of the Lost de Andy Clark que apareció poco después, no supimos de la existencia de tribus de humanos adoradores del caos con este apelativo: Darkoath. Pero acostumbrados a nombres compuestos de difícil traducción, no nos dimos cuenta de que ya nos estaban revelando una pista de su diseño como facción (y de hecho, en ese mismo libro no parecía haber ninguna relación entre su nombre y su verdadero significado).

Así que no fue hasta el espectacular Warqueen de Darius Hinks que empezamos a encajar las piezas.
[SPOILER ALERT: NO SIGAS LEYENDO SI TIENES PENSADO LEER WARQUEEN O SCOURGE OF FATE; DE LO CONTRARIO, SIGUE ADELANTE].
---
En Warqueen conocemos a Vedra, una Reina Guerrera que domina a varias tribus adoradoras del Señor del Cambio, en una aventura que la llevará (a ella y a sus hermanas y hermanos), a padecer lo indecible y a triunfar contra todo pronóstico contra mortales e inmortales. Podemos leer en el final de la novela como, en un momento crucial, Vedra recita un juramento de sangre (oath en inglés) en medio de un combate. A diferencia de otros seguidores del Dios de la Guerra que lo intentan anteriormente, ella es capaz de controlar la fuerza que este juramento le otorga, y no acaba convertida en un engendro del Caos (podría decirse que es digna de ello, y de ahí su recompensa).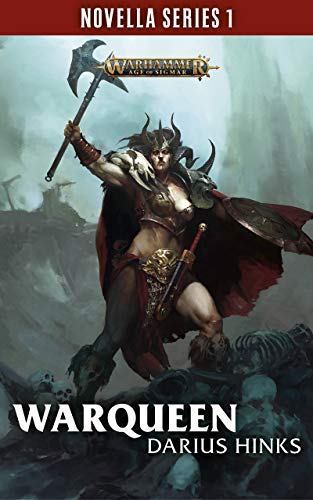 "Her muscles were swelling and blood was sweating through her pores, flowing down her limbs in rivulets, bleeding from her eyes. Vedra's cry became incoherent again. The oath was complete. Savage strength was coursing through her veins. [...] Vedra's heart was thundering. Her strength was incredible. Her howl became peals of laughter. To die, like this, was worth anything that followed [...]. Her fury and strength continued to grow. As she stood there, eyes closed and head thrown back, the blood oath ripped through her bones, still transforming her. She had expected pain but felt only a glorious, heady ascendancy. She passed beyond the confines of her flesh. [...] Vedra smiled as she realised something incredible. She was not dying."
Así, Vedra lleva a cabo un juramento que le otorga poder por encima de sus capacidades mortales (que no eran pocas, dicho sea de paso).
Lo que nos lleva a otra novela con una coprotagonista humana de gran poder (tanto físico como político) en Scourge of Fate de Robbie McNiven. Jevcha es otra Reina de Guerra (y es la tercera en el lore, si recordamos a Marakarr Blood-Sky, de Malign Portents, que incluso tiene miniatura propia y que aparece en un relato en el que mata a Tarvak el Desollador).
'I am Marakarr Blood-Sky,' she roared. 'Warqueen of the Reaver Wastes. You fight for me now. The Flayed Legion is mine. Anyone who would challenge my rule, step forward.'
Afortunadamente, Jevcha no es protagonista de una historia corta, sino que tiene un papel fundamental en la historia de Vanik Golpe de Tormenta. Y es que en esta historia volvemos a ver el papel de los juramentos oscuros, pero esta vez en la forma de algo que ya podía verse en la miniatura de Marakarr y que vimos más adelante en la banda de Underworlds, los Godsworn Hunt (en castellano, Cazadores jurados divinos, una traducción algo desafortunada si ya has captado la idea de este artículo). Son unas pequeñas placas con runas que adornan las miniaturas de los bárbaros.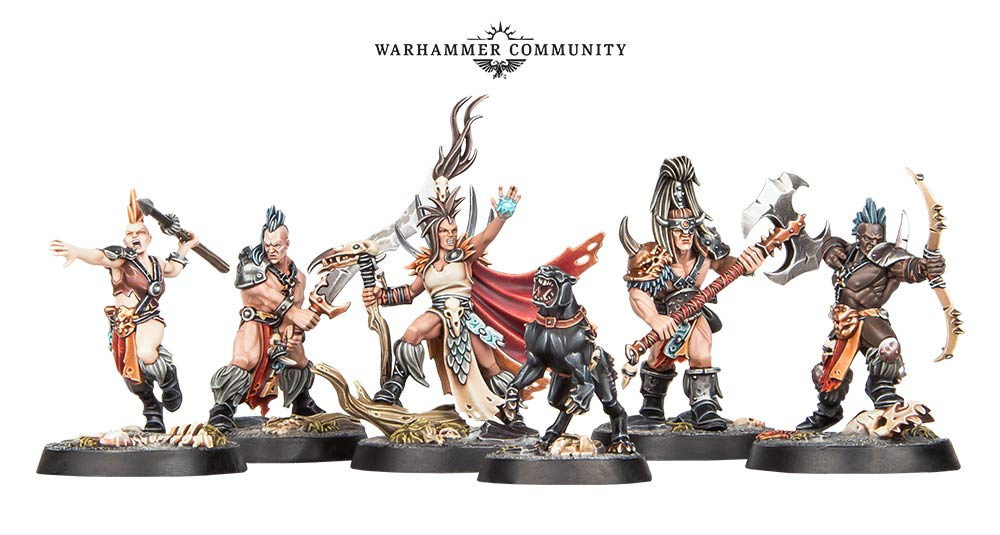 Sigue leyendo y entenderás por qué son tan importantes...
"Jevcha had broken enough [shield] walls in her time. To do so was to earn the favour of the Gods, to fulfil a dozen great oaths in one. Often her faith and her fury were enough, but if not then the hooked edge of her axe dragging the rim of her opponent's shield down to let the warrior behind her strike him was. This fight was different, though. It was not the fact it was a duardin shield-wall – she had broken those before; they simply took more time and effort. It was the fact that it was also bristling with Free City pikes [...].

'We go again!' Jevcha shouted, her burning gaze sweeping the panting, bloodied warriors around her. 'I swear to you, we will break these lightning-loving dogs!' She reached round to her cloak, ripping one of the small stone tablets strung about her tusker pelt free. 'Witness my oath!' she shouted. She pressed the tablet against a graze in her shoulder, drawn by a duardin axe blow, letting her blood stain it. Then she scraped the wet surface against the heel of her axe's bit, chiselling a rough line into it. 'With this mark, I swear I will not take a backward step again!' she screamed, holding the tablet up for all the war party to see. 'I make this oath before you and before the True Gods! Follow me, that I might not break it!' The tribe let out a roar, hammering blades and axe heads against their shields. 'Zovich, Goll, raise the blessed icons,' Jevcha shouted. 'Tormev, sound the bray-horn!' She dropped her axe, pointing again at the Helmgard battle line just ahead. 'Charge!'.
Aparte del momentazo Fury Road de Jevcha, aquí puedes ver como funciona eso de los juramentos a los Dioses del Caos... Pero para saber como termina ese muro de escudos Duardin, tendrás que leer el libro.
---
Bola extra 1: Otra cosa que aparece tanto en Warqueen como en Scourge of Fate, son perros de guerra (vale, y perros enormes que son capaces de tirar de un carro, pero esa es otra historia). Así que crucemos los dedos y esperemos que Grawl no sea el único perrete que veamos este año...
Bola extra 2: La banda de los Godsworn Hunt también está liderada por una señora, Theddra Skull-Skryer. Así que no sé vosotros, pero con ella van cuatro. Si esto no es un matriarcado del Caos, que baje Khorne y lo vea.