Si tenéis algunos años, como yo, puede que esto os suene de algo:
Ork-Genestealer Hybrids.
The Green Brood, shunned by any proper Orks, but hired by Warbosses with the lowest cunning. Orks are not the best host for the Genestealers because their life-cyrcle is too slow to suit the alien's purpose. The Patriarch is determined to lead his band to where they can find a new and more suitable host species...
El Culto Genestealer dentro de una tribu orka es algo con un cool factor tan grande que da miedo. Porque pocas cosas molan más que el Culto Genestealer, y una de ellas son los Freebooterz. Los dos estilos unidos son un WIN como una casa.
El proyecto
La idea es montar una unidad de Orkos basados en ese transfondo, con híbridos, purasangres y toda la pesca. Las reglas para jugar con ellos, ya son otro asunto.
El siguiente paso era buscar imágenes y miniaturas en las que basarlo, y jugando con Google encontré esto: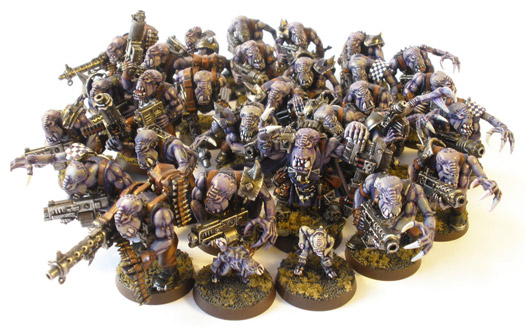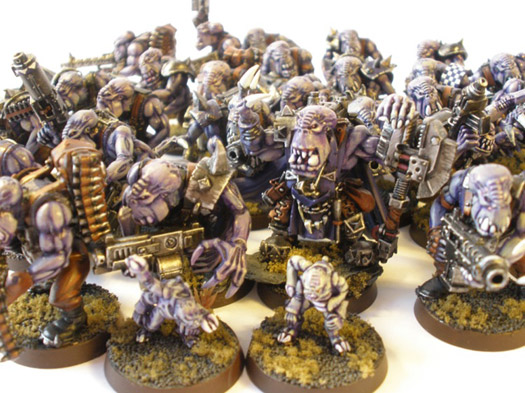 Haciendo de arqueólogo he llegado a la conclusión que son obra de un tal Curis, que escribía en el blog Ninjabread. Hasta donde yo sé, migraron el blog de Blogger a Wordpress y por el camino se perdió la entrada original, y una tercera imagen que no he sido capaz de encontrar. De hecho, esta es la referencia más antigua que he sido capaz de encontrar. El resto de menciones en foros enlazan al nuevo blog, y allí no existe esa entrada.
Desde luego, existen otras conversiones, pero hasta la fecha, combinar media cabeza de genestealer con media de orko parece la mejor opción.
La lista
De momento, toca reunir las piezas y escoger la gama de colores (genestealers clásicos, morado y rosa). Y claro está, elegir de qué generación será cada uno...
Purii - Purii are the most recognisable kind of Genestealers and one of them starts the infection cycle. They can infect members of other species through an ovipositor for genetic material located within their tongue. As the infection and infiltration spreads, the first genestealer takes the role of Patriarch and often grows larger than a typical Purii specimen.
Contagii - Infection Generation - Are the "hosts", members of another species, that have been infected by the "Kiss of the Purii". This causes them to forget the circumstances and the infection itself. As they return to their own societies they begin to have an urgent need to find a mate and to begin a family. The mate also becomes a Contagii. The Contagii are physically indistinguishable from other members of the species, making them the perfect infiltrators. The infection makes them fanatically loyal to their offspring, and to their Patriarch, which typically will re-enter their life all too soon.
Maelignaci - 1st Generation - As the contagii mate, the genetic material they were infected with passes onto their offspring. The maelignaci are very alike pure Genestealera, possessing many times 3 or even 4 arms. However they are unable to use their host species technology or weaponry. Within the cult they generally regarded as expendable shock troops. They are very clumsy and slow.
Hybrid - 2nd Generation - The offspring of the maelignaci bear more resemblance to their host species. However no one would be fooled, and they are also unable to use technology.
True Hybrid - 3rd Generation - The members of this generation could be mistaken for a member of their host species if they wear disguising clothes, or appear in shaded areas, etc. Some of them are capable of using weapons of their host species.
Primacii - 4th Generation - The Primacii are indistinguishable from members of their host species. Still many sport some tell-tale: many are bald, or something else. Their loyalty always lies with the Genestealer cult. Some rare individuals of this generation have psychic powers and take an important role within the cult as a Genestealer Magus.
Purii - 5th Generation - Paradoxically, the Genestealers DNA reemerges and the cycle can begin anew, as new Genestealers have the potential to become new Patriarchs in other worlds.
Y luego está esto: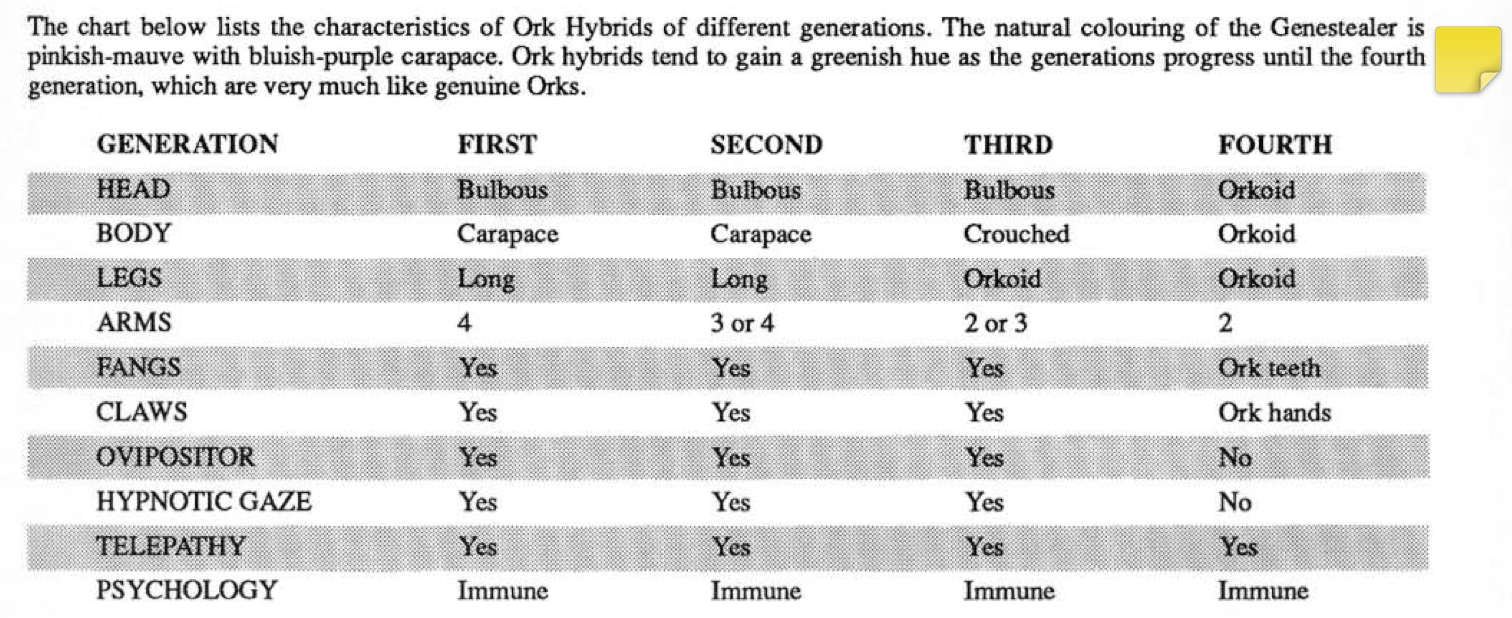 Que es bastante concreto y me orienta hacia la cantidad de conversiones necesarias (por aquello de los brazos extra, y tal).
Nota: el Magus de las imágenes está hecho con un Big Mek que GW retiró la semana pasada de su tienda online. Si alguien tiene uno de resina y quiere venderlo, que me escriba a pintadmalditos@gmail.com
EDIT: un artículo interesante de BOLS sobre los cultos genestealer.